Only works with IE or Firefox. Be sure to print portrait 100%. (Chrome does not print to scale, do not use Chrome browser).
Step by Step tutorial and software manual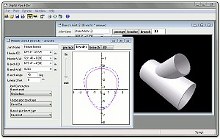 A greatly enhanced version of this pipe joint software is now available!
If you are creating pipe joints commerically, Digital Pipe Fitter is for you.